Click on the name of the event below for more details.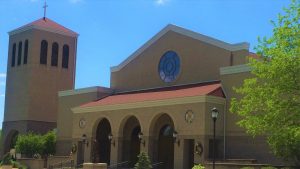 Saturday, 28th 5:50PM-7:00PM
St. Michael the Archangel Parish 750 Bright Rd. Findlay Oh. 45840
Join us following the 4:30 pm on the front portico of the main church for heavy hors d'oeuvres, wine and cheese, and music by the Celtic group Toraigh!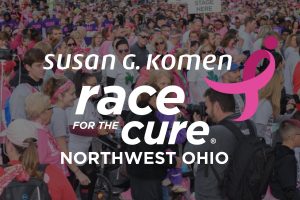 Saturday,September 28
7:00 am – 12:00 pm
Join us at the 7th Annual Susan G. Komen Northwest Findlay Ohio Race for the Cure 5K Walk or Run to raise critical dollars for the fight against breast cancer in our community! It's a day of joy, impact, and a little exercise too.
With your registration, you get:
Entrance to the 5K Walk/Run
Commemorative T-shirt
Snacks and water
Expo
Breast cancer survivors also enjoy:
Pampering and goodies at the Blanchard Valley Health System Survivor Tent
Survivor photo and ceremony
Survivor parade
Special pink Race for the Cure T-shirt
Help us honor and remember those we have lost, and pledge to continue increasing awareness and providing breast health services to the most vulnerable in our communities.
May 1 – 31: $5 off all registration types
May 1 – June 30: Free shipping for T-shirts and race packets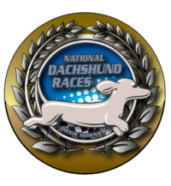 Saturday, 28th
9:00 am – 2:00 pm
Multiple Events, including: Senior race, Puppy race, Adult Race and a Weenie Martini Party (raffle and food)
Findlay Doxie Downs Dachshund Races | $2 admission per person **One Free Admission per registered dog.**100% admission goes to Sophia's Grace Foundation(Dachshund Rescue)
Weenie Martini Party evening before Friday the 27th
Registration @ the park beginning at 9:00 am for those who need to last minute register for events and races. Otherwise you can register in advance online.
Weenie Martini Party to be held on the Friday night 7-9pm @ Same Location (Riverside Park) Info HERE
Followed by events all day Saturday
Proceeds to benefit The PKD Foundation; Hancock County Sheriff K-9 Unit; Sophia Grace Foundation (Rescue); USWarDogs.org

Saturday, 28th
2:ooPM-10:30PM Downtown Findlay, Ohio
This fun filled festival showcases the rich German Heritage of Northwest Ohio. Live German music, polka dancing, hearty German foods and libations, kids activities, and much more! Grab food from Schmidt's Sausage Haus, Wurst und Bier, Saums Market and many more! Enjoy more than 30 varieties of German import and domestic beers! Join us on the 300-400 block of South Main Street in Findlay! Enjoy performances by Fred Ziwich & His International Sound Machine and Aaron Dussing and the Polka Revolution! Admission: 21 & Over – $5 20 & Under $3 Children in Strollers – Free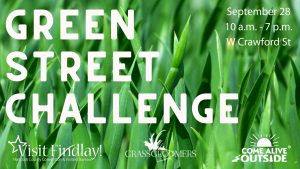 Saturday, 28th 10:00AM-7:00PM
Downtown Findlay, Ohio
On September 28, grass area will be installed on W. Crawford St., curb to curb, from Main St. to the first alley west. Organizations will provide toys, games and activities for people of all ages. The sod will be placed at 7 a.m. Hot Yoga Findlay will provide a yoga session at 11 a.m. St. Andrew's Church will be providing free lunch of hot dogs, chips, popcorn and bottled water, for free, from noon to 2 p.m. The event is open to people of all ages and families are encouraged to attend. Free play equipment will be provided by Camp Fire of Northwest Ohio, Awakening Minds Art, the Findlay Family YMCA, and BSA Scouts. Other organizations may be added. At 7 p.m. the sod will be rolled up, placed back on the truck and delivered to a local Habitat for Humanity home for installation. The event is being coordinated and sponsored by Grass Groomers, a landscaping and snow removal company and the Findlay Hancock County Convention and Visitors Bureau. Grass Groomers oversees the landscaping for the Marathon Petroleum Corporation's downtown campus.